Here are the culprits and their names: Chateau Mouton Rothschild-Pauillac 1982, 1981; Charles Krug 1966-Cabernet Sauvignon; Inglenook 1970- Cabernet Sauvignon;  Opus One 1981,1980-Red table wine; Perrier Jouet  Fleur De champagne- 2000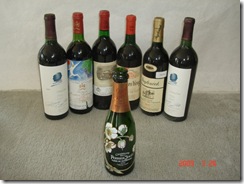 Here is the solution to your problems. All Phase Carpet and Upholstery (303) 938-1793 to the rescue!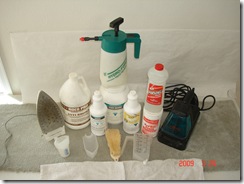 Here is the challenge- one of these bottles of excellent wine will be sacrificed for this demonstration.  We flipped a coin and the winner is: Charles Krug Cabernet Sauvignon-1966.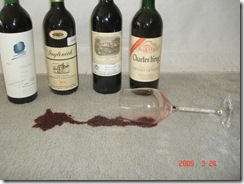 OK- your best friend just spilled wine on your carpet.  How are you going to get it out?
Make sure you wear protective eye wear, and any other protective items you feel you need to do this process safely. Some of these products contain oxidizers and may pull the natural color out of the carpeting- test in an inconspicuous spot before using or attempting any of these procedures.  If you feel you can not do this process in a safe and effective manner- call All Phase Carpet and Upholstery at (303) 938-1793 to arrange an appointment.
Here is the Wine Spotting Guide.
First- blot the spot
Keep pressing down until you can not remove any more of the color- keep on turning the towel so a fresh new area is exposed until no more of the wine transfers to the towel. Never rub- just press down hard.
Please do not skip this extremely important step: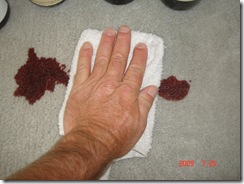 Keep on blotting.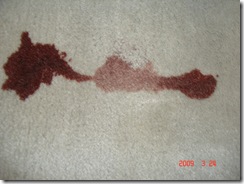 You are almost done!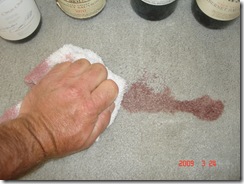 Ahhhh!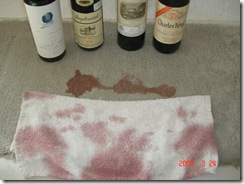 OK- you have blotted every last drop that will transfer- now on to the next step.
Second-Apply spotter to the entire area affected by the wine spill.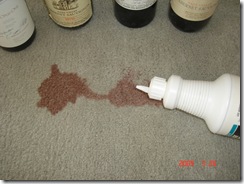 Now brush it in- gently- do not go back and forth, but brush in one direction at a time.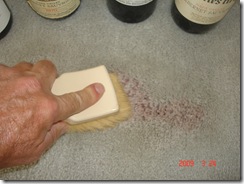 Keep on brushing in the spotter until you have finished the entire area.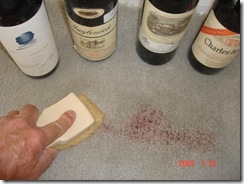 Third step: Use a spotting machine.
Extract (vacuum) up all the spotting solution- make sure you keep going until you do not see any more of the solution being picked up by the tool. (Do not use the emulsifier supplied with many home spotting machines- they will only cause you problems in later steps- use hot water only.) Perform multiple dry strokes (no water flowing) to make sure you do not over wet the carpet.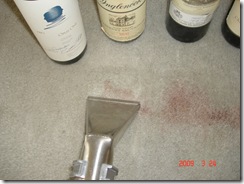 Keep on extracting……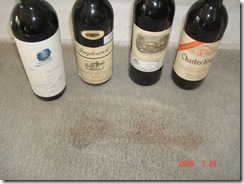 Fourth step: Red dye stain remover
Now you can mix up your red dye stain remover: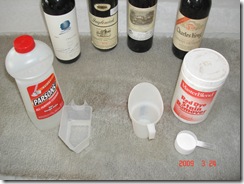 Mix 1/2 ounce of Red Dye stain Remover with 2 ounces of sudsy household ammonia and 2 ounces of water.  Mix well and use quickly for best results.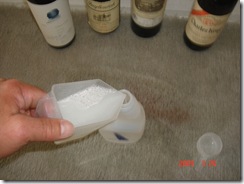 Spray until entire area is saturated.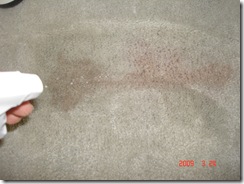 Gently Brush in the solution.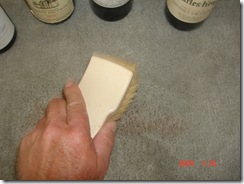 Place a wall paper steamer or similar tool on top of the spot for 10 minutes, or until the spot disappears. If the spot is still visible- repeat the process. Check frequently to make sure that no carpet dye loss is occurring.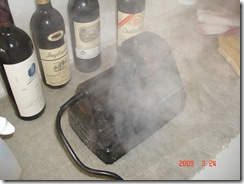 If a yellow residue still remains- apply red stain remover to the area and gently brush in the spotter.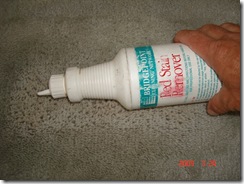 Place a damp towel over the area and place a non-Teflon coated steam iron set on medium to high heat on top of the towel.  Press down on the iron with a moderate amount of pressure for 40-60 seconds or until bubbling subsides on the sides of the iron.  Lift iron, inspect towel and stain and repeat process until no more stain is visible or no more wine transfer occurs. Stop immediately if you notice any dye transfer occurring from the carpet fibers- the only thing you want to remove is the wine.   Stay with the iron the entire time it is on the towel.  Remember- steam is hot- be very careful.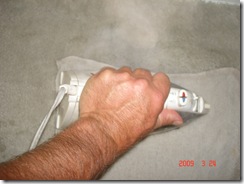 Here is a picture of the area after all of the steps were followed. I still notice a bit of a stain, so I will do one final step- wear gloves and eye protection when using this product.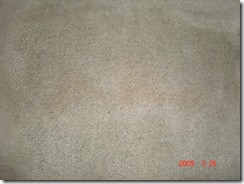 In this step, I am using a product called StainZone that will oxidize the remaining wine color from the fibers.  Fill a sprayer with the ready to use product and spray the area until saturated.  Allow the spotter to dwell for 5 to 10 minutes and then gently brush the area.  Blot with a clean white towel. Rinse and extract the area to remove as much of the stain and moisture as possible.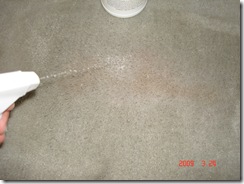 If any residual stain remains, apply StainZone again and follow the same procedure.  Allow to dry completely.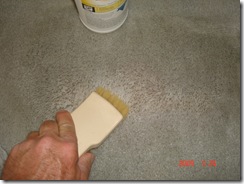 When the area is totally dry- extract remaining residue from the surface before you let anybody use the area. You are finished!
Here is a picture of the affected area after all of these steps: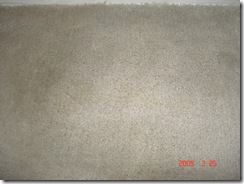 There is a still slight tint of the dye remaining, but the first rule in removal of spots is to do no harm- if I keep going, I risk removal of the carpet fiber dye, which would leave a white spot on the carpet that would be very noticeable for the life of the carpet.
I hope you have learned how to remove red wine from carpet or at least that your cleaning professional has to know a lot more than you imagined to do the job required of a Master IICRC Certified Carpet and Upholstery Cleaner.
Have a wonderful day!